I've made this a few times now. I've altered the original recipe quite a few times, and this is the best one that my family really loves!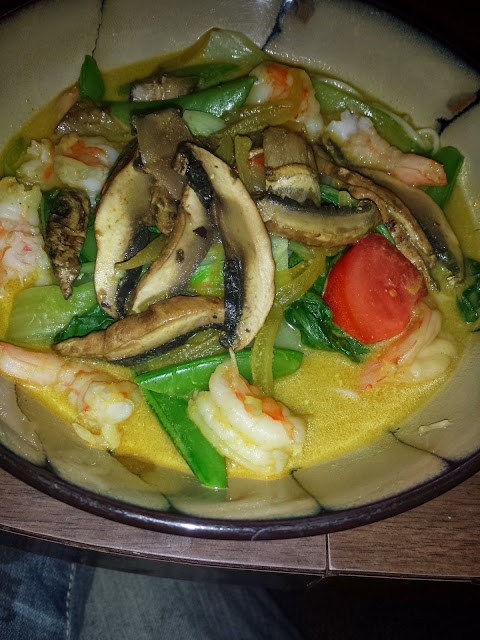 Somen noodles with shrimp

Here's what I put in it:
1 Tbsp vegetable oil
2 Tbsp grated fresh ginger
1 stalk lemon grass, minced
2 tsp red curry paste
1 ½ tsp Oriental curry powder
½ tsp ground coriander
½ tsp ground turmeric
2 cups Not Chick'n broth
2 Tbsp fish sauce
1 Tbsp brown sugar
2 (13.5 oz) cans coconut milk (A Taste of Thai)
½ lb. fresh mushrooms, sliced (shiitake or large Portobello)
¼ cup white/yellow onions, quartered and sliced thinly
½ lb snow peas
¼ cup chopped fresh cilantro
½ cup green onions (scallions), cut about 1" length
Lime wedges
Salt to taste

Optional Additions:
1 lb. medium shrimp - peeled and divined
2 med Asian eggplants, sliced
2 tomatoes, quartered and cut in half

Serve over:
1
small pkg Asian noodles of your choice (pad Thai, Somen, Ramen, Udon), or 3 cups cooked rice
Depending on what noodles you use, it will taste a little different. All have been delicious!
How I made it:
Blanch greens and peas. Bring 4 cups water to a boil in a large saucepan. Add bok choy and peas to pan; cook for 1 minute. Remove vegetables from pan with a slotted spoon; place in a large bowl. Add noodles to pan; cook as directed. Drain; add noodles to bok choy mixture in bowl.
Microwave mushrooms for 3 minutes on high heat. Drain and set aside.
Heat canola oil in pan over medium-high heat. Add white/yellow onions and the first 7 ingredients to pan; sauté 1 minute, stirring constantly. Add broth to pan, and bring to a boil. Add coconut milk to pan; reduce heat, and simmer 5 minutes. Add shrimp, sugar, and fish sauce to pan; cook for 2-3 minutes. Remove shrimp, add mushrooms. Stir in cilantro.
Distribute noodles, peas, bok choy, any other additions in 4 bowls. Pour mushroom soup mixture over noodles and vegetables in bowls. Garnish with lime wedges.
Serve warm.
pad Thai noodles with eggplant